TechAmok News Archive
Steam Link for iOS and Apple TV - [briefly]
08:39 AM EDT - May,16 2019 - post a comment
Valve's Steam Link app
is now available on iOS devices and the Apple TV, almost a year after Apple initially rejected it for 'business conflicts.' Steam Link allows you to beam your existing library of PC games to other devices on the same network; the app is Valve's replacement for a now-discontinued streaming box that carried the same name. The news comes days after the Supreme Court ruled that Apple must face an antitrust lawsuit related to alleged monopolistic practices around the App Store. It's notable, however, that the new iOS Steam Link app doesn't allow users to purchase games from the Steam store, unlike on Android. Banning an app that streamed games that had already been purchased on another platform seemed hard to justify even within the scope of Apple's App Store rules, especially after those rules were updated specifically to accommodate similar remote mirroring apps last summer. Valve removed the store functionality in Steam Link betas back in June, however, so it's unclear why it took so long for Apple to approve the app.
OnePlus 7 Pro Sports Three Rear Cameras, Pop-up Selfie Camera - [mobile]
05:28 PM EDT - May,14 2019 - post a comment
The new OnePlus 7 Pro puts top-end specs and features, such as three rear cameras and a notchless 6.67-inch quad-HD AMOLED display with HDR 10+ and 90 Hz refresh rate, into a new design with a pop-up selfie camera and a glass back, that's just 8.8mm thick. OnePlus announced the phone today at events around the world. The OnePlus 7 Pro is powered by a Snapdragon 855 processor with 6-12 GB of RAM. Its three rear cameras include a 48-megapixel main camera with OIS and f/1.6 aperture. It also has a 16-megapixel wide camera and 8-megapixel telephoto camera. It supports slow motion (1080p at 240 fps), portrait mode, automatic scene detection, and RAW mode. The pop-up front camera clocks in at 16 megapixels and f/2.0. It retracts automatically if the phone is dropped. The fingerprint reader is embedded in the display. Its 4,000 mAh battery can be topped up with "Warp Charge 30" fast charging (5V/6A). Instead of a 3.5mm audio jack, it support audio over USB-C. The phone also has Cat. 18 LTE, NFC, and stereo speakers. The full retail pricing is $669 for the variant with 6 GB of RAM, up to $749 for the 12 GB version. T-Mobile will launch the phone on Friday, May 17th. It will be available in dark gray, blue, and almond/gold. The company also announced a OnePlus 7 model (non-Pro) that is not coming to the US
Wormable Windows bug could lead to another WannaCry - [security]
05:25 PM EDT - May,14 2019 - post a comment
Microsoft is warning that the Internet could see another exploit with the magnitude of the WannaCry attack that shut down computers all over the world two years ago unless people patch a high-severity vulnerability. The software maker took the unusual step of backporting the just-released patch for Windows 2003 and XP, which haven't been supported in four and five years, respectively. "This vulnerability is pre-authentication and requires no user interaction," Simon Pope, director of incident response at the Microsoft Security Response Center, wrote in a
published post
that coincided with the company's May Update Tuesday release. "In other words, the vulnerability is
wormable,
meaning that any future malware that exploits this vulnerability could propagate from vulnerable computer to vulnerable computer in a similar way as the WannaCry malware spread across the globe in 2017. While we have observed no exploitation of this vulnerability, it is highly likely that malicious actors will write an exploit for this vulnerability and incorporate it into their malware."
As if a self-replicating, code-execution vulnerability wasn't serious enough,
CVE-2017-0708
(as the flaw in Windows Remote Desktop Services is indexed) requires low complexity to exploit. Microsoft's
Common Vulnerability Scoring System Calculator
scores that complexity as 3.9 out of 10. (To be clear, the WannaCry developers had potent exploit code
written by, and later stolen from, the National Security Agency
, to exploit the wormable
CVE-2017-0144
and
CVE-2017-0145
flaws, which had exploit complexities rated as "high.") Ultimately, though, developing reliable exploit code for this latest Windows vulnerability will require relatively little work.
Bartholomew said network firewalls and other defenses that block the RDP service would effectively stop the attack from happening. But as the world learned during the WannaCry attacks, those measures often fail to contain damage that can collectively cost billions of dollars. Independent researcher Kevin Beaumont, citing queries on the Shodan search engine of Internet-connected computers,
said here
that about 3 million RDP endpoints are directly exposed.
Besides Windows 2003 and XP, CVE-2019-0708 also affects Windows 7, Windows Server 2008 R2, and Windows Server 2008. In a testament to Microsoft's steadily improving security, later versions of Windows aren't at risk.
AMD Releases Radeon Software Adrenalin 19.5.1 Drivers - [briefly]
10:26 AM EDT - May,14 2019 - post a comment
Just in time for the release of Bethesda's open-world first-person shooter Rage 2, AMD has released their latest installment of
the Radeon Adrenalin 2019 edition drivers
for their graphics cards to make the most of the game. Indeed, AMD claims an improvement in game performance of up to 16% on the Radeon VII relative to last month's 19.4.3 drivers, and this is in addition to added support for the big Windows 10 May 2019 update and instruction tracing for AMD's GPU Profiler version 1.5.X. There is a plethora of fixed issues listed as well, and the usual list of known bugs, all of which can be seen past the break.
Support For

RAGE 2

Up to 16% performance gains with AMD Radeon Software Adrenalin 2019 Edition 19.5.1, on an AMD Radeon VII.RS-295

Windows 10 May 2019 Update
Instruction Tracing for Radeon GPU Profiler 1.5.X

Fixed Issues

Performance metrics overlay may experience intermittent flicker when playing back protected content with this feature enabled.
DOOM may experience an application hang during launch on AMD XConnect™ Technology system configurations.
Radeon Software installation may fail or get stuck at 33% when installing on AMD Radeon HD 7970 system configurations.
Some Radeon RX 400 and Radeon RX 500 series graphics products may experience a system hang when hot plugging 8K displays.
AMD Radeon VII may fail to apply Radeon Settings video profiles to video playback.
HTC VIVE devices may experience connection or detection issues by the OS or SteamVR.
System instability may be experienced on ASUS TUF Gaming FX505 laptop when a wireless display is connected.
Stuttering or frame drop may be experienced when playing back DivX interlaced content in the Windows® Movies & TV application.
Radeon RX Vega series graphics products may experience higher than expected memory clocks at idle or desktop with multi-display system configurations.
Some system configurations may not be able to set 10-Bit color in Radeon Settings when the connected display is set to 4K 60hz.
Enhanced Sync may fail to enable on Radeon FreeSync enabled displays in DirectX®9 API games on game first launch.
AMD Link may experience intermittent authentication issues. An update of the AMD Link application is also required.
Some games may experience texture flickering or corruption on Radeon RX Vega series graphics products when using the Vulkan API.
GOG.com is offering the first Witcher game for free - [gaming]
10:07 AM EDT - May,14 2019 - post a comment
The first Witcher game is currently available for free to players with a GOG.com account. In an effort to promote the  spin-off game derived from within the Witcher trilogy, Gwent, GOG.com has included an enhanced edition of the first game as a signing-on bonus of sorts. If you have a GOG.com account, follow
this link
and click on the big 'Subscribe and Claim' orange button to secure your free copy. Once you have downloaded the site's client, GOG Galaxy, you can then proceed to subscribe to their official newsletter. As part of the promotion, you will also need to add the game Gwent to your GOG.com games library (an installation is not required). This game is also free. After completing the aforementioned steps, the enhanced edition of the first game is yours to try and keep.
Apple Launches iOS 12.3 And tvOS 12.3 - [briefly]
05:41 PM EDT - May,13 2019 - post a comment
iOS 12.3 includes a brand-new TV app
, which gives users access to Apple TV Channels. With this new Apple TV Channels interface, users will be able to directly add their paid streaming services directly into the Apple-design UI, including fan favorites like Showtime and Starz. Apple even gives you the ability to share these subscriptions with up to six other people using Family Sharing. One added perk is support for offline viewing, meaning you can download shows directly to your device when you won't have future access to an internet connection. Apple has even thought about the kids in the family with a "Kids" section that features curated content for children of all ages. And for the adults in the room, there's a Sports section that allows you to watch games and keep up with the schedule of your favorite teams. The new TV app is available right now in iOS 12.3 and tvOS 12.3. The Apple TV+ subscription service will launch this fall is all goes according to plan in Cupertino.
Feds Bust 'The Community' Hackers - [crime-law]
05:40 PM EDT - May,13 2019 - post a comment
Authorities in the U.S. have announced that they have been successful in
breaking a ring of hackers who had been running a scam to hijack SIM cards and steal cryptocurrency
from the victims of the crime. Court documents in the case allege that the group, known as "The Community," had stolen about $2.4 million in cryptocurrency. Six people from the hacking ring were named in court documents in the case. The indictment came from the U.S. Attorney's Office for the Eastern District of Michigan, and it alleges that six people living around the U.S. and Ireland were part of The Community. The SIM hijacking scheme that the group pulled off involved them using bribery or trickery to convince mobile phone carriers to transfer a phone number to a new SIM card. Once the hackers had access to the phone number via the SIM card hijack, they were able to bypass two-factor authentication and gain control over the victim's accounts. The scam frequently involved taking over the victim's cryptocurrency wallet to gain access to their funds. The group allegedly used the technique seven times to steal cryptocurrency. A sperate complaint filed in conjunction with the scam charged three mobile phone company operators with accepting bribes as part of the crime. The alleged hackers in the case face several fraud and identity theft charges. The phone company operators charged in the crime are facing wire fraud charges. Each person named in the indictment faces decades in prison if convicted. Cryptocurrency theft has been a major target for hackers and malware. In February a cryptocurrency-stealing malware was discovered on Google Play.
Microsoft: The open source company - [software]
04:23 PM EDT - May,11 2019 - post a comment
The news from Microsoft's Build developer conference that surprised me most was that
Microsoft will ship a genuine Linux kernel—GPLed
, with all patches published—with Windows. That announcement was made with the announcement of Windows Terminal, a new front-end for command-line programs on Windows that will, among other things, support tabs. Microsoft's increased involvement with open source software isn't new, as projects such as Visual Studio Code and the .NET runtime have operated as open source, community-driven projects. But this week's announcements felt a bit different.
The Linux kernel will be powering Microsoft's second generation Windows Subsystem for Linux (WSL). The first generation WSL contains a partial re-implementation of the Linux kernel API that uses the Windows NT kernel to perform its functionality. In choosing this approach, Microsoft avoided using any actual Linux code, and hence the company avoided the GPL license with its "viral" stipulations that would have arguably forced Microsoft to open source WSL and perhaps even parts of Windows itself.

No less significant is the Windows Terminal project. Many Windows users will know that Windows' command-line programs depend on a process named conhost.exe that's responsible for drawing the command-line windows. As part of Windows Terminal, Microsoft has published the source to conhost.exe. This is an important (albeit uninteresting) part of Windows itself, and Microsoft has published it using the permissive MIT license. This is, I think, unprecedented. While Microsoft has open sourced Windows utilities such as Calculator, this represents the first time that the company has published core Windows code—and with an open source license to boot.

The Windows Terminal project is similarly permissively licensed. While it's branded an early alpha release at present, once it stabilizes and has a solid feature set, it's likely to be integrated into Windows itself and to ship as a standard Windows component. Just as with the publishing of conhost.exe, this too represents something of a first: a (new) core Windows component that's developed as open source.

Microsoft has changed. It's not the company it once was. Open source is no longer the enemy—it's now something that has a role across the entire company. And open source is not just for discrete, standalone applications; it's now a viable building block for core Windows features.
Unhackable eyeDisk Secure Thumb Drive Is Quite Hackable - [security]
12:17 PM EDT - May,11 2019 - post a comment
If you try to market a product as "unhackable," it stands to reason that someone is going to attempt to hack your device to knock you down a peg or two. That is exactly what happened with eyeDisk, which was first brought to light last year with a successful
Kickstarter
campaign.
eyeDisk was able to raise over $21,000 from nearly 250 backers and began shipping the thumb drive in 32GB and 128GB capacities earlier this year. The device uses a combination of AES-256 encryption and iris recognition to lock down the device and keep it safe from harm's way. In fact, eyeDisk was billed as "the world's first USB flash drive that uses iris recognition technology for unbeatable data security."
Researchers from Pen Test Partners were able to put the eyeDisk's "unhackable" claim to the test, and the drive failed spectacularly - despite all the claims via its Kickstarter page touting its security. Although attempts to fool the onboard camera used for the iris unlock feature failed (score one for the eyeDisk team), researcher David Lodge found that he was able to use a USB traffic sniffing tool to easily obtain the backup password that was user-set on the device.
"That string in red, that's the password I set on the device. In the clear. Across an easy to sniff bus," writes Lodge. "The bit in blue is a 16 byte hash, which is about the right size for md5 and doesn't match the hash of the password, so it could be the iris hash.
"Let me just repeat this: this 'unhackable' device unlocks the volume by sending a password through in clear text."
SpaceX will begin launching its first Starlink test satellites next we - [internet]
05:32 AM EDT - May,10 2019 - post a comment
SpaceX has been working to get its satellite-based broadband service, Starlink, off the ground for a couple of years now. It started to finally get the ball rolling on that process in November when it secured permission to launch over 7,000 satellites to get the network up and running. Later, in February, the space company sought FCC permission to operate roughly one million ground-based "earth stations" to communicate with the network. Now, just a few months later,
SpaceX is ramping up its plans to begin launching "dozens" of test broadband satellites
as early as next week. This early test will be a crucial precursor to Starlink's full-scale service launch, which will take place later in 2019 -- assuming all goes well, anyway. As SpaceX is well aware following the recent destruction of its Crew Dragon test capsule, even the best-laid plans can be ruined due to unforeseen circumstances. To be clear, although SpaceX's service satellites will begin launching this year, Starlink won't necessarily be available on a consumer basis for quite some time. The earth stations SpaceX is hoping to deploy won't be setup until 2020 at the earliest, and Starlink will probably need a fair bit of beta testing before it launches on a wider scale.
NVIDIA Releases GeForce 430.64 WHQL Drivers - [briefly]
04:02 AM EDT - May,10 2019 - post a comment
NVIDIA has released the
GeForce 430.64 WHQL graphics drivers
. These drivers include the crucial bug fix that caused abnormal CPU usage by telemetry, which was fixed by the non-WHQL 430.53 Hotfix . In addition, it comes Game Ready for "RAGE 2," "World War Z," and "Total War: Three Kingdoms." The drivers also add SLI support for "Imperator: Rome," and "Insurgency Sandstorm." In addition to the high CPU-usage bug, version 430.64 WHQL fixes a flickering observed when 3DMark Time Spy is launched, an application crash with BeamNG, "Hitman 2" DirectX 12 mode, and flickering noticed on secondary monitor when a video is played on the primary one, in dual-monitor setups.
Game Ready

Provides the optimal gaming experience for RAGE 2, Total War: Three Kingdoms, and World War Z.

Application SLI Profiles
Added or updated the following SLI profiles:

Imperator: Rome
Insurgency Sandstorm

Security Updates

Version 430.64 adds security updates for driver components.

Fixed Issues in this Release

Fixes higher CPU usage by NVDisplay.Container.exe introduced in 430.39 driver. [2577118]
[3DMark Time Spy]: Flickering observed when benchmark is launched. [200511272]
[BeamNG]: The application crashes when the game is launched. [2575392]
[Shadow of the Tomb Raider]: The game freezes when launched in SLI mode. [2575536]
[Hitman 2 DirectX 12]: The game crashes. [2584342]
The desktop flickers when videos are played on the secondary monitor. [2552316 2565509]

Windows 10 Issues

[NVIDIA Control Panel]: When the 3D Settings page->Vertical Sync setting is set to Adaptive Sync (half refresh rate), V-Sync works only at the native refresh rate after rebooting the system. [2543187]
[Sniper Elite 4]: Random crashes occur when playing the game. [200485204]
Bitcoin is worth $6,000 for the first time this year - [briefly]
08:00 AM EDT - May,09 2019 - post a comment
Last year was a brutal one for holders of bitcoin. The price fell from its all-time high of $19,500 in December 2017 to a low of $3,100 a year later. Then the price mostly languished between $3,000 and $4,000 in the early months of 2019. But recently bitcoin has been on a tear. On April 2, the price soared almost 20 percent in a single day to reach $5,000. The price has drifted steadily upward since then, and it hit $6,000 on Wednesday.
It's often difficult to explain bitcoin price movements, and this case is no exception. Major bitcoin-related news in recent weeks has seemed mostly negative: a possible Chinese government ban on cryptocurrency mining, worries that a major cryptocurrency exchange might be insolvent, and most recently, hackers stealing $40 million from another cryptocurrency exchange. On the other hand, in recent weeks there have been some signs of growing interest in cryptocurrency from mainstream companies. Fidelity is
preparing to offer cryptocurrency trading services
for institutional customers, which could enable more large investors to hold bitcoin, potentially pushing up its price. Perhaps most significant, Facebook is thinking about launching a cryptocurrency of its own. The introduction of facebucks wouldn't directly push up bitcoin's value. But cryptocurrencies generally rise or fall together, and a Facebook endorsement could certainly help to broaden interest in other cryptocurrencies. Of course, the recent price rise could be totally random, too :-)
Star Wars SC 38 Reimagined - [briefly]
05:30 PM EDT - May,08 2019 - post a comment
"Scene 38 ReImagined" is about the final confrontation between Ben Kenobi & Darth Vader in "A New Hope" nearly 20 years after the events of "Revenge Of The Sith." This is a one-off story driven scene reflecting the characters in its chronological order from the point of Revenge of the Sith through Rebels, Rogue One, and all canon material leading to A New Hope.


Android Q Allows Speedier OS Updates - [mobile]
05:21 PM EDT - May,08 2019 - post a comment
Android Q includes a new internal architecture called Project Mainline that splits off certain OS functions into app-like modules that can be updated quickly and easily, without updating the whole OS. This will allow many security and privacy updates to be delivered quickly via
Google
Play, instead of requiring time-consuming updates of the whole OS created by manufacturers and carriers. The new modules include several that are critical for security and/or have required the most updates in the past. These include module for handling media (photos, videos, and audio), resolving internet domain names, managing app permissions, and cryptography
POKEMON Detective Pikachu: Full Picture - [briefly]
03:59 AM EDT - May,08 2019 - post a comment
With just a few days to go until Detective Pikachu's release, Ryan Reynolds is having a bit of fun with a "leak" of the film on Twitter. Detective Pikachu officially hits theaters on May 10, 2019.


A Live Demo For HoloLens 2 Did... Not Go According To Plan - [briefly]
05:03 PM EDT - May,07 2019 - post a comment
Live demos can be a great tool - a chance to show a product's promise and abilities in a convincing way. But they can also go quite wrong, which Microsoft found out the hard way during its annual Build developer conference when a HoloLens demo about Apollo 11 never got off the ground:
Android 10 Brings Live Caption, Dark Mode - [briefly]
04:50 PM EDT - May,07 2019 - post a comment
Google
today revealed some key new features of Android 10 Q. The first is Live Caption, a system-wide feature that uses on-device speech recognition to automatically add captions to any video played on the phone, including video calls. Because it uses new on-device speech recognition, it works quickly, privately, and even offline. A new Focus Mode blocks notifications from a configurable list of "distracting" apps while enabled. A new Dark Mode helps save power on phones with OLED displays. New parental controls built right into the phone's main settings let parents set time limits for specific apps, set a bed time that can be extended with "bonus time" by the parent, approve new app installs, and review screen time by app. New privacy controls offer more granular control over apps using location data. Q also offers better support for foldable phones. The third beta of Android 10 Q will be available soon for 21 devices from 12 different brands.
Google Pixel 3a Series Starts at $399 - [mobile]
04:49 PM EDT - May,07 2019 - post a comment
Google
today expanded its Pixel lineup with two mid-range models: the Pixel 3a and Pixel 3a XL. The new models look much like the higher-end Pixel 3 models and have many of the same features, but use software to bring enhanced quality to more affordable hardware components such as the camera module. Cost savings also come from dropping water resistance, wireless charging, and the wide-angle selfie camera. The processor is Snapdragon 670 instead of 845, and the rear is made of plastic instead of glass. The Pixel 3a has a 5.6-inch display and sells for $399. The larger Pixel 3a XL has a 6-inch display and sells for $479. The phones are on sale starting today from Google. Tomorrow, Google is expanding distribution of its whole Pixel 3/3a lineup to T-Mobile, Sprint, and US Cellular, in addition to Verizon. The Pixel 3a phones include a 3.5mm audio jack, full-HD OLED displays, Night Sight and Portrait modes in the camera app, call screening, a squeeze shortcut for Google Assistant, USB-C, stereo speakers, Google's Titan M security chip, and a promise of OS updates for three years. The phones support fast charging and come with an 18-watt charger. The Pixel 3a is available in three colors: Just Black, Clearly White, and Purple-ish.
Google debuts 'next-generation' Assistant - [technology]
04:41 PM EDT - May,07 2019 - post a comment
Google on Tuesday debuted
an updated version of its Google Assistant platform
during the keynote of its Google I/O developers conference. The company said it is internally calling this the "next-generation" Assistant and that it will first become available on Google's "new Pixel phones" later this year. Google is touting significant performance improvements with the updated Assistant, claiming that it can process and understand voice requests "in real time" and deliver results "up to 10 times faster" than its current iteration. The company says this is primarily due to it condensing the AI models used to interpret speech down to a half a gigabyte, which is small enough for them to process directly on a smartphone instead of requiring remote servers. A user will seemingly be able to open apps, set timers, reply to texts, activate the flashlight, browse Google Photos, get a car from a ride-sharing service like Lyft, and do other typical Google Assistant things with minimal wait time or the need to say "Hey Google!" at any point in between. Another demo showcased the Assistant's ability to compose and send emails entirely through voice commands. This includes knowing when to delineate between a greeting and the first sentence of the email and when a user is asking to title the subject line. Interestingly, feedback for these commands appears to be relegated to the bottom right corner of a phone's status bar, where the "recent apps" button was traditionally placed on Android phones.
Mozilla releases Firefox 66.0.4 which re-enables user extensions - [briefly]
08:46 AM EDT - May,06 2019 - post a comment
Mozilla has finally released
Firefox 66.0.4
which addresses a
certificate issue
which caused many Firefox users' extensions to become disabled. The hiccup occurred on Friday, May 3rd and, as a result, many users flocked to forums such as Reddit to see just what was going on. For users on desktop, Mozilla was fairly quick to push a temporary fix via the Studies programme but this didn't extend to the ESR or Android versions of the browser.
A Firefox release has been pushed - version 66.0.4 on Desktop and Android, and version 60.6.2 for ESR. This release repairs the certificate chain to re-enable web extensions, themes, search engines, and language packs that had been disabled. There are remaining issues that we are actively working to resolve, but we wanted to get this fix out before Monday to lessen the impact of disabled add-ons before the start of the week
While the new update fixes a ton of issues that users will have faced, it doesn't solve them all. Some users may notice the following issues:
A small number of add-ons are listed as unsupported or may not appear in about:addons, the data isn't lost and users should be able to re-install the add-ons and recover the data.
Add-ons that use container functionality may have lost site data or custom configurations and may need to be set up again.
Themes may not have automatically been re-enabled but users can re-enable them manually in about:addons.
Home page and search settings that were customised by an add-on may have been reset to default, requiring users to customise the settings again.
It's not clear whether Mozilla plans to fix these issues in another point release or just wait for the next major release of the browser which is slated for May 14.
Hard Drive Shipments Expected to Drop Nearly 50 Percent YoY in 2019 - [briefly]
08:34 AM EDT - May,06 2019 - post a comment
With solid-state drives (SSDs) entering value and mainstream price segments, and the transition in consumers' data-storage behavior from local storage to the cloud, there is expected to be a dramatic fall in shipments of hard disk drives (HDDs) in 2019. Japanese company Nidec, which manufactures nearly 85% of all DC motors for use in HDDs across the industry,
estimates a nearly 50 percent drop
in HDD shipments for 2019. Since these motors are specifically designed for use in HDDs, it is directly proportional to new HDD shipments, thus presenting a reliable outlook of the HDD industry itself. The DC motor inside HDDs is a non user-replaceable component as detaching it involves opening the seal of the disk chamber, thereby contaminating it. In 2010, Nidec shipped nearly 650 million motors, which dropped significantly down to 375 million motors in 2018, indicating the sharp decline in the HDD industry. While Nidec will ship as few as 290 million motors in 2019, it estimates shipments of HDDs to go down by nearly 50 percent year-over-year (YoY). Data centers are swallowing up large volumes of high-capacity (>10 TB) HDDs for warm- and cold-storage even as SSDs and DRAM are sought for hot-storage. The client-segment, however, is now firmly captivated with SSDs, with even mainstream laptops packing SSDs. Prominent HDD manufacturers Seagate, Western Digital, and Toshiba, have each invested heavily in building up SSD product lines, and specializing their HDD portfolio for enterprise and quasi-enterprise (eg: NAS, NVR, high-uptime client) markets.
U.S. Hikes Tariffs on Electronics Imports from China by 2.5 Times - [briefly]
08:32 AM EDT - May,06 2019 - post a comment
President Donald Trump Sunday
announced a fresh round of import tariffs
affecting $200 billion worth electronics goods from China, starting next Friday. President Trump in a Tweet said that his administration would raise import tariffs to a staggering 25 percent from the existing 10 percent, a 2.5 times change, a move that could increase prices of consumer-electronics and computer hardware by at least 14 percent unless retailers are willing to take a hit on their margins. Tech stocks took a beating to this news as Dow Jones Industrial index well 1.5 percent, and Nikkei shrunk 0.2 percent. In the short term, as I mentioned, the new tariffs can increase end-user prices by at least 14 percent. In the medium-term, electronics companies could move their manufacturing out of China, transferring the costs of doing so to the consumer. In the long term, prices could remain high as the countries companies are relocating to may not have the labor or logistics cost advantages of China.
World Of Goo free on Epic Games Store - [gaming]
(psolord) - 04:46 PM EDT - May,04 2019 - post a comment
World Of Goo is a puzzle 'em up about building bouncy structures from goo, sticky stands connecting to each other as you build up and along and under and. It gets delightful yet tricky when you're juggling different types of goo balls which build in different ways. Grab World Of Goo
from the Epic Games Store by May 16th
and it'll be on your Epic account forever. You'll need to get it through the Epic Games Launcher, obviously.
Firefox is having trust issues with add-ons - [software]
03:34 PM EDT - May,04 2019 - post a comment
According to
an announcement on Mozilla Discourse
, a certificate used to sign Firefox add-ons expired some hours ago and is causing new add-ons to fail to install and existing add-ons to stop working. As a result,
users have reported on Reddit
that they have been left without functioning add-ons such as content blockers, password managers, and download managers.
Mozilla is now rolling out a fix for the issue affecting add-ons to release, beta, and nightly users on desktop and should automatically be applied to Firefox in the next few hours. However, it relies upon remaining opted into "Studies" found in the Firefox preferences under
Privacy & Security
>
FireFox Data Collection and Use
and making sure that
Allow Firefox to install and run studies
is enabled in addition to
Allow Firefox to send technical and interaction data to Mozilla
. These options can be disabled after the fix has been applied.
In the meantime, Mozilla is still working on a general fix that does not rely on the above configuration.
How Viagra Made Pfizer Billions Before Generics - [briefly]
04:59 AM EDT - May,04 2019 - post a comment
Pfizer was making $1.8 billion a year on average from Viagra when the erectile dysfunction drug first appeared on the market. After the patent expired in late 2017 and competitors created cheaper alternatives and generics, Viagra sales plummeted with 73% year-over-year for 2018. Pfizer still holds the lead in the erectile dysfunction market with 65% even as Viagra sales falter. It's been able to maintain that significant share thanks in part to launching Sildenafil, its own generic version of the blue, diamond-shaped pill. Cialis and its generic, Tadalafil, and Levitra and its generic, Vardenafil, are close behind with 30% and 5% of market share, respectively.


Git repositories are being compromised by a hacker - [security]
04:56 AM EDT - May,04 2019 - post a comment
If you're hosting code on a Git repository such as Microsoft's GitHub, you may have some bad news when you visit your projects today, According to
a report by ZDNet
, a hacker is attacking repositories by wiping all of their content and replacing the files with a single note that asks for a ransom in order to get their files back. The ransom value is 0.1 bitcoin, which is around $567 as of the time of writing. The note further claims that the payment must be made within the next ten days, otherwise the code will be made available to the public or be "used otherwise". On GitHub alone, searching for the bitcoin address provided for the ransom payment
reveals that at least 392 repositories
have had their content replaced with the threatening note. Thankfully, despite the demands, it seems like the "lost" content isn't actually deleted. Instead, the hacker is just changing commit headers for the repositories, meaning at least some of the files might be recoverable. If you'd like to try and attempt to recover your files,
this post may help
. Otherwise, getting in touch with support for the Git platform you're using may help you avoid the ransom payment.
Windows 7 users won't let go of the aging OS - [briefly]
09:23 AM EDT - May,03 2019 - (1 comments)
Analytics company NetMarketShare's latest figures show that while Windows 10's market share continues to climb, it is doing so at a slower pace. It went from 43.62 percent in March to 44.10 percent in April. And while Windows 7 declined, it did so by just 0.09 percent-from 36.52 percent to 36.43 percent. It was only in December that Windows 10 finally surpassed Windows 7 to become the most popular version of the operating system. Surprisingly, the older OS experienced slight growth in February, but has been falling since then, though not as quickly as Microsoft wants. Windows 7 will no longer receive extended security updates on January 14, 2020. After this point, the only users to receive them will be business and education customers willing to pay the high prices. In an attempt to get more people to migrate to Windows 10, Microsoft started sending out courtesy reminders last month. These contain a link to pages that offer advice on how to prepare for Windows 7's last days and encourage people to upgrade to Windows 10 or buy a new PC.
Google Adds Widgets to Wear OS - [gadgets]
01:29 PM EDT - May,02 2019 - post a comment
Google
today announced Tiles, a new feature of Wear OS that brings a set of widgets one swipe away from the home screen on Wear OS smartwatches. Six "tiles" are available to start, and Google promises to add more tiles over time. The initial set of tiles is: Goals, Next event, Forecast (weather), Heart rate, Headlines and Timer. Tiles replaces the Google Fit screen, which is now the Goals tile. Users can re-arrange the tiles into any order they like. Tiles will be rolling out to Wear OS smartwatches over the next month.
Google Lets you set Expiration for Location and Search Data - [security]
01:29 PM EDT - May,02 2019 - post a comment
Google
is rolling out a new account option that lets users specify how long to keep location history and web/app activity data. In addition to existing options to opt out or delete data manually, users can choose to keep data for three months or 18 months, after which it will be permanently deleted. The data in question is used for things like recommending a restaurant that you might enjoy, or helping you pick up where you left off on a previous search.
Ariana Grande Shakes Her Booty - [off-topic]
11:50 AM EDT - May,02 2019 - post a comment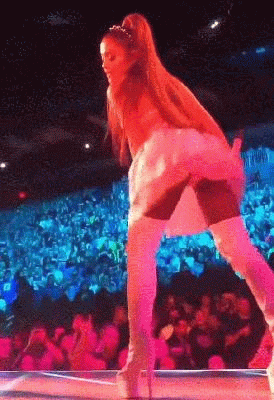 If you go to an Ariana Grande concert try to get seats near the front row. And if you do, yo are going to witness her little booty twerking right in front of you! (click on the pic)
Backblaze Releases Hard Drive Stats for Q1 2019 - [hardware]
06:01 PM EDT - May,01 2019 - post a comment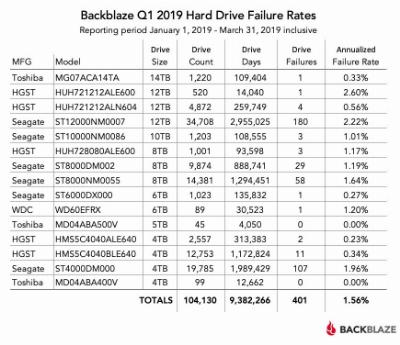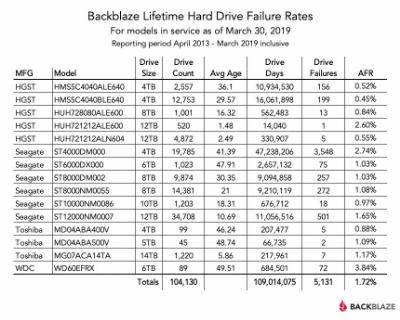 At the end of Q1 2019,
Backblaze was using 104,325 hard drives
to store data. For our evaluation we remove from consideration those drives that were used for testing purposes and those drive models for which we did not have at least 45 drives (see why below). This leaves us with 104,130 hard drives. The table below covers what happened in Q1 2019. If a drive model has a failure rate of 0%, it means there were no drive failures of that model during Q1 2019. The two drives listed with zero failures in Q1 were the 4 TB and 5 TB Toshiba models. Neither has a large enough number of drive days to be statistically significant, but in the case of the 5 TB model, you have to go back to Q2 2016 to find the last drive failure we had of that model.
Windows 10 May 2019 Update Blocks Prior To Launch - [briefly]
06:26 AM EDT - May,01 2019 - post a comment
Microsoft is likely just days away from publicly launching
the next major release for Windows 10: Version 1903
, aka, the Windows 10 May 2019 Update. Although Microsoft has been testing the May 2019 Update for months internally and externally - via the Windows Insider program - the company doesn't want a repeat of what happened with the disastrous Windows 10 October 2018 Update. With that in mind, the company pushed the update out to the Release Preview ring much earlier than usual so that it could catch any last-minute bugs before going to a full-scale public release. The next step that the company has taken it to implement upgrade blocks for specific configurations that are known to have issues with the Windows 10 May 2019 Update. By issuing these blocks, customers who otherwise would have been pushed the update will be spared the headaches of dealing with sometimes crippling bugs. Once Microsoft has pushed out fixes for these particular problems, the blocks will be lifted.
With this in mind, Microsoft has posted the following list of upgrade blocks that will be in place when the Windows 10 May 2019 hits the public next month:

* If you have an external USB device or SD memory card is attached to your PC, you will be blocked from updating to the May 2019 Update. If you remove any external USB devices and/or SD memory cards, the update should proceed normally. This issue will be resolved in a future servicing update for Windows 10.
* If you have older versions of anti-cheat software used with games installed on your PC, you will be blocked from updating to the May 2019 Update. Some older versions of anti-cheat software may cause PCs to experience crashes after updating to the May 2019 Update. This block is specific to older versions of anti-cheat software. We are working with partners on getting their software updated with a fix, and most games have released patches to prevent PCs from experiencing this issue. To minimize the chance of hitting this block, please make sure you are running the latest version of your games before attempting to update the operating system.
* If you have redirected any Known Folders (for example: Desktop, Documents, Pictures), an empty folder with that same name is created in your %userprofile% directory when you update. Your Known Folders are redirected if you chose to back up your content to OneDrive using the OneDrive wizard, or if you chose to keep your content backed up during the Windows Out-of-box-Experience (OOBE). You may have also redirected your Known Folders manually through the Properties Dialog in File Explorer. ​This issue does not cause any user files to be deleted and a fix is in progress.
Redesign Coming to Facebook, Instagram Apps - [internet]
05:19 PM EDT - Apr,30 2019 - post a comment
Facebook
is starting to role out major redesigns of all of its major apps, including Facebook, Messenger, Instagram, and WhatsApp. In the core
Facebook
app, the company is refreshing the design and refocusing the whole service to emphasize private groups over public posts. Different types of groups will now have new tailored features, such as job postings for job groups, and anonymous questions for health groups. In the Dating area, users can now designate "secret crushes" among extended friend circles, where Facebook will match people who crush on each other. The
Messenger
app is being re-engineered to be faster and "lighter". It will also introduce a new feature where friends can watch a video together and chat about it, and a feature that collects Stories from Close Friends in one place. In
Instagram
, a new camera interface includes a Create Mode for generating visual content from scratch, without a photo or video. Instagram is also adding a new fundraising tool, with 100% of funds going a nonprofit of choice. Instagram is also starting a phased rollout of in-app shopping for products promoted by creators.
WhatsApp
will soon gain a catalog feature where customers interacting with a business account can view a product catalog from that business.
Valve's Index VR Headset Officially Unveiled - [gaming]
05:18 PM EDT - Apr,30 2019 - post a comment
Valve has today fully revealed the
Valve Index
, the company's new virtual reality headset that is slated to release this summer. The Valve Index comes with dual 1440 x 1600 LCD displays for each eye, which is of a much higher quality than that of OLED. The headset also comes with adjustable headphones and multiple points of maneuverability for greater comfort compared to other VR devices. As for the tracking system, Valve Index uses Base Station 2.0, which is said to offer great movement and FOV when tracking your actions. It's also worth noting that all VR games you might purchase through Steam will be compatible with the Valve Index. On the controller front, the handheld devices somewhat mirror those seen from Oculus, but Valve's version comes with much more functionality. In addition to having two buttons, a trigger, and a thumbstick for each controller, both devices also come with finger tracking so that you can make motions from the real world in-game. Each device also includes built-in force sensors to know how hard or soft you might be squeezing an object. Plus, they just generally look really comfortable to hold. Likely the biggest question on your mind though: how much will Valve Index cost? Well, it just depends on what sort of bundle you want to get. To get the Valve Index, controllers, and two Base Station 2.0 tracking devices, the full set will retail for $999. You can also purchase the Valve Index alone for $499, the controller for $279, and then single Base Station 2.0 units for $149 each. It's a costly setup, but it seems like it could be the most high-quality VR system around. As for when you'll be able to get your hands on this kit, the Valve Index website says that orders will start shipping out on June 28
Kara Del Toro Is Amazing! - [off-topic]
12:34 PM EDT - Apr,30 2019 - post a comment
Kara Del Toro is only 57 K followers away from a million - she is doing a great job and taking photos and posting it online!
NVIDIA Releases GeForce 430.53 Hotfix Driver - [briefly]
11:12 AM EDT - Apr,30 2019 - post a comment
NVIDIA today introduced their latest hotfix driver.
Driver number 430.53 addresses reported issues of high CPU utilization
(due to NVDisplay.Container.exe) on NVIDIA's previous 430.39 WHQL driver, which added support for their latest GTX 1650 graphics card as well as Windows' 1903 release. A number of fixes have also been introduced by this driver version. Namely, flickering observed when 3DMark Time Spy is launched; BeamNG application crash on games launch; SLI freezes in Shadow of the Tomb Raider; and monitor flickering on the desktop when videos are being played on a secondary monitor.
GeForce Hotfix display driver version 430.53 is based on our latest Game Ready Driver 430.39. This Hotfix driver addresses the following:


Fixes higher CPU usage by NVDisplay.Container.exe introduced in 430.39 driver
3DMark Time Spy: Flickering observed when benchmark is launched
BeamNG: Application crashes when game is launched
Shadow of the Tomb Raider: Freezes when launched in SLI mode
Desktop flickers when videos are played back on a secondary monitor
GeForce 430.39 driver causes High CPU usage - [briefly]
04:23 PM EDT - Apr,29 2019 - post a comment
A few days ago, NVIDIA released a brand new driver for its graphics cards. The GeForce 430.39 driver was optimized for Mortal Kombat 11, Anthem and Strange Brigade, however, it appears that it is also plagued by a really weird bug. According to numerous reports, this latest driver caused high CPU usage on a variety of PC system configurations. However, and contrary to other similar reports,
NVIDIA has acknowledged this issue
and stated that it is currently working on a fix.
Thank you. We have been able to reproduce the bug consistently now and are currently testing a fix.
Western Digital Launches 4 TB Version of its Blue SATA SSD - [hardware]
04:07 PM EDT - Apr,29 2019 - post a comment
Western Digital is launching a behemoth, consumer-oriented 4 TB SSD based on its WD Blue product line. The WD Blue 4 TB uses the SATA interface (for which controllers are still slightly cheaper than for NVMe solutions) with a Marvell 88SS1074 4-channel controller with a 64-layer 3D TLC NAND from SanDisk. Read and write speeds are basically SATA III-bound (sequential 560MB/s read and 530MB/s write speeds, with random 4K read/write of 95K/82K IOPS.) The WD Blue 4TB SATA SSD has its official availability date on May 13th, but it's already popping up here and there around retailers' shops in Europe. The 4 TB SSD is being priced at 545 euro, which seems to be inline with expectations for such a capacity level. Quick napkin math saying that these should find a home at the sub-$500 level is very likely accurate, considering past pricing practices from manufacturers between the European and US markets.
Tesla Will Release Fully Self-driving Cars in 2019 - [technology]
04:10 PM EDT - Apr,25 2019 - post a comment
On Monday, Tesla
held a major event
to show off the company's impressive progress toward full self-driving technology. The company demonstrated a new neural network computer that seems to be competitive with industry leader Nvidia. And Tesla explained how it leverages its vast fleet of customer-owned vehicles to collect data that helps the company train its neural networks. Elon Musk's big message was that Tesla was close to reaching the holy grail of fully self-driving cars. Musk predicts that by the end of the year, Tesla's cars will be able to navigate both surface streets and freeways, allowing them to drive between any two points without human input.
At this point, the cars will be "feature complete," in Musk's terminology, but will still need a human driver to monitor the vehicle and intervene in the case of a malfunction. But Musk predicts it will only take about six more months for the software to become reliable enough to no longer require human supervision. By the end of 2020, Musk expects Tesla to have thousands of Tesla vehicles providing driverless rides to people in an Uber-style taxi service. In other words, Musk seems to believe that once Tesla's cars become "feature complete" later this year, they will be 90 percent of the way to full autonomy. The big question is whether that's actually true-or whether it's only true in the Cargill sense.
Since 2016, Autopilot has been powered by Nvidia's Drive PX hardware. But last year we learned that Tesla was dumping Nvidia in favor of a custom-designed chip. Monday's event served as a coming-out party for that chip-officially known as the Full Self-Driving Computer. Musk invited Pete Bannon, a chip designer Tesla hired away from Apple in 2016, to explain his work. Bannon said that the new system is designed to be a drop-in replacement for the previous Nvidia-based system. "These are two independent computers that boot up and run their own operating systems," Bannon said. Each computer will have an independent source of power. If one of the computers crashes, the car will be able to continue driving. Each self-driving chip has 6 billion transistors, Bannon said, and the system is designed to perform a handful of operations used by neural networks in a massively parallel way. Each chip has two compute engines capable of performing 9,216 multiply-add operations-the heart of neural network computations-every clock cycle. Each Full Self-Driving system will have two of these chips, resulting in a total computing capacity of 144 trillion operations per second. Tesla says that's a 21-fold improvement over the Nvidia chips the company was using before. Of course, Nvidia has produced newer chips since 2016, but Tesla says that its chips are more powerful than even Nvidia's current Drive Xavier chip-144 TOPS compared to 21 TOPS.
Samsung Galaxy S10 5G Available for Pre-Order on Verizon - [mobile]
04:06 PM EDT - Apr,25 2019 - post a comment
Verizon has started accepting pre-orders for the Samsung Galaxy S10 5G, its first phone with integrated 5G. The phone will hit stores on May 16th. Verizon will offer the S10 5G in the Samsung-announced configuration with 256 GB of storage for $1,300, plus a new option with 512 GB of storage for $1,400. (The S10 5G does not have a memory card slot to add storage.) Verizon has a limited-time exclusive on the S10 5G in the US, and will retain an exclusive on the Majestic Black color. Verizon will also offer the phone in Crown Silver. The company is offering several promo deals to those who pre-order the phone, including free 5G service (normally $10/month), free Samsung Galaxy Buds, and a Samsung Wireless Charging Battery Pack. In addition, customers can trade in an old phone for up to $450 in savings, and new customers switching to Verizon get a $200 prepaid MasterCard. The S10 5G is similar with the S10+, but with a larger screen, larger battery, and advanced depth cameras on the front and back. Verizon plans to offer 5G service in the downtown areas of over 30 major US cities by the end of the year. Chicago and Minneapolis have already launched, and Verizon announced the next 20 cities today. Because Verizon's initial 5G network uses the 28 GHz band in the mmWave range, it can offer very high speeds, but the range of each cell is limited to a few hundred feet and does not reach indoors well.
Coolpad Invites Parents to Beta Test New Monitoring App - [briefly]
04:06 PM EDT - Apr,25 2019 - post a comment
Coolpad today announced FamilyLabs, a new app that lets parents communicate, locate, and provide remote support to multiple family members, on both Android and iOS phones. The first phase of FamilyLabs is launching on Indigogo, where available bundles include the app, a new Coolpad phone, and service from Mint Mobile. Bundles start at $99 with 1 month of service. Larger bundles include up to three months of service (unlimited talk and text plus 8 GB of 4G data per month). The initial version of the app will offer location tracking, geo-fencing with alerts, content filtering, remote setting of alarms and reminders, and panic alerts. Coolpad will actively solicit feedback and ideas from Indiegogo supporters in order to refine the app before a wider launch beyond Indiegogo. The included phone is the Coolpad Model M, which is based on the REVVL Plus for T-Mobile. Coolpad will make both iOS and Android versions of the app available for Indiegogo customers to download and test on other phones. The target shipping timeframe for Indiegogo customers is June. Beyond the app, FamilyLabs is also a platform and brand Coolpad will use for additional family-oriented products. The company launched Dyno, a smartwatch for kids, in January.