Resident Evil 3 - 27 Graphics Cards Compared - [gaming]
01:43 PM EDT - Mar,31 2020 - post a comment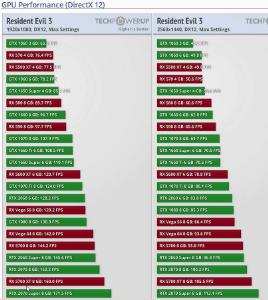 Resident Evil 3 by Capcom is a remake of the 1999 PlayStation smash hit "Resident Evil 3: Nemesis" survivor horror third-person action RPG. The game will simultaneously release on April 3rd on PlayStation 4, Xbox One, and PC. Events of the game are re-told with a completely rebuilt production design. Instead of fixed-perspective prerendered rooms in which the player moves, Resident Evil 3 is now fully interactive 3D-as expected for 2020. Resident Evil 3 uses Capcom's in-house RE Engine (which also powers other Capcom titles, such as Resident Evil 2 Remake and Devil May Cry 5). On the PC platform, RE Engine is able to leverage both DirectX 11 and DirectX 12. Compared to previous versions of the engine, we're now getting more eye candy and support for AMD FidelityFX. In this mini-review,
TechPowerUp have tested Resident Evil 3
across a wide selection of graphics cards from all price segments; they tested both the DirectX 11 and DirectX 12 modes and present comparisons between both.
Performance is excellent across the board. For 1080p 60 FPS even a GTX 1060 3 GB or RX 570 4 GB will be sufficient-at the highest setting. The settings screen claims that this setting requires 12 GB VRAM, which is not even close since we measured 5.5 GB and the game still ran fine on cards with less VRAM. For 1440p at 60 FPS, a GTX 1660 or RX 580 does the trick, and even the demanding 4K resolution is perfectly playable on a lot of cards. Here, you need a RTX 2070 Super or Radeon VII. We tested with Game Ready drivers from both companies, NVIDIA 445.75 is already public and AMD's Radeon 20.4.1 (which AMD provided for our testing) will come out in a few days, well ahead of the game's release.

Resident Evil 3 supports both the DirectX 11 and DirectX 12 API. Just like in previous RE Engine games the DirectX 12 render path is actually a little bit slower than DirectX 11. Even on older cards, like NVIDIA Pascal and AMD Polaris. The only difference is the GTX 1060 3 GB, which seems to take a smaller performance hit on DX12 when it runs out of VRAM at 1440p and 4K-still not the right card for those resolutions. In a reversal of that result, the Radeon RX 5500 XT with its 4 GB VRAM and PCIe x8 interface does a lot worse in DX12 than DX11 when it runs out of memory. My recommendation is to switch to DirectX 11 for your playthrough and never look back.