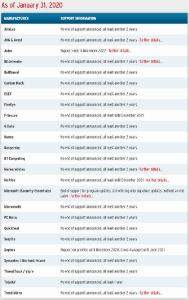 Despite Microsoft ending Windows 7 support on January the 14th and declaring it End-Of-Life (EOL),
most of the antivirus providers are still providing their services to Windows 7 users
. With a large portion of the users unable to switch to the newer and supported OS versions like Windows 10, antivirus providers see a good opportunity to gain new customers that want to protect their PCs from the possible threats. Thanks to the AV-Test report we have a list of antivirus providers that are going to support Windows 7, and it includes all of the big players with a plan to support their software on Windows 7 until 2022. So some of the Windows 7 users unable to upgrade to the newer OS are going to be at least semi-protected against possible vulnerabilities, with exception of course for those found in OS level. When it comes to the number one source of the threats, the browser, there is some good news there as well. Google plans to support its Chrome browser to at least July 2021, while Mozilla declared no official information about their support plans, however, if they behave as they did with Windows XP and its support ending, your Firefox browser will likely get some more mileage out of it.