Gmail in real-time: Google does the Wave - [internet]
04:05 AM EDT - May,29 2009 - post a comment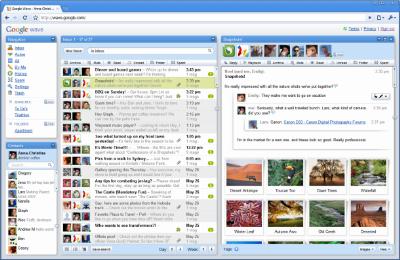 Google on Thursday publicly demonstrated Google Wave
for the first time at the Google I/O conference in San Francisco. Billed as "the e-mail of the future," Google Wave is the result of a multiyear project inside of Google to reinvent the inbox, blending e-mail, instant messaging, photo sharing, and perhaps, with input from developers, connections to the world of social networking. Still confused? Well, it's supposed to be an all-in-one service that is a little Twitter, a little Facebook and allows real-time communication, photo and document sharing.
At the moment, the functionality is somewhat limited, but Google is introducing Google Wave at its developer conference for a reason: "a lot of this depends on developer uptake," Rasmussen said. The company will release APIs (application programming interfaces) at the conference so that developers can start testing how to build Wave into their own sites, or how to integrate their services with Google's.

Google envisions three types of developer projects using Wave. The first is the most obvious; using Wave as a gateway for conversations that you're already having elsewhere on Twitter, Friendfeed, Facebook, blogs, and other social media sites.

There are plenty of reasons for Google to try to tap into the "stickiness" of various social networks, where users spend obscene amounts of time. And the company thinks that services such as Twitter recognize the value of letting others build a front end into their services: there are dozens of Twitter apps for PCs and smartphones that grant such access without having to use Twitter's own front end, and those apps don't seem to have put much of a dent in Twitter's overall traffic. For starters, Google Wave will allow users to post new items to blogs created with Blogger from within a wave, and see comments and replies within a wave.




Add your comment

(free registration

required)



Short overview of recent news articles

Aug,06 2020 Intel will announce its Tiger Lake processors on September 2 Aug,05 2020 Samsung Galaxy Note20 Ultra Ecosystem: Official Introduction Aug,05 2020 Galaxy Note20 Series Focuses on Video, Note-Taking Aug,05 2020 Samsung Galaxy Z Fold 2 Coming to Verizon, T-Mobile Aug,05 2020 Samsung Intros New Earbuds and Watch Aug,05 2020 AMD Radeon Adrenalin 2020 Edition 20.8.1 Driver Aug,04 2020 200 Watt car mounted laser! Aug,04 2020 A Large Explosion Took Place In Beirut Aug,04 2020 Xbox Cloud Gaming Launching on Android September 15th Aug,04 2020 Samsung's Most Affordable 5G Phone Hits US This Month Aug,03 2020 The Ultimate PS4 Pro: 8TB SSD Upgrade Aug,03 2020 Microsoft confirms its intention to buy TikTok Aug,02 2020 Teenage Bounty Hunters - Official Trailer Aug,02 2020 Watch 15-Year-Old's Short Film 'Numb' Aug,02 2020 //HEX Released Aug,01 2020 Microsoft won't open its physical offices until early 2021 Aug,01 2020 Microsoft reportedly in talks to buy TikTok Aug,01 2020 NASA launches Perseverance rover on mission to Mars Jul,30 2020 Intel Overhauls its Corporate Identity Jul,30 2020 Google Offers New Free Backup Options for iOS and Android Jul,30 2020 Qualcomm Quick Charge 5 can Fully Charge Your Phone in Under 15 Jul,28 2020 Intel Core i9-10850K Officialy Clocked At 5.2GHz Jul,28 2020 Samsung's Galaxy Watch 3 Explored Jul,27 2020 NVIDIA Releases Hotfix Driver Version 451.85 Jul,26 2020 Windows 10's latest update bug is breaking internet Jul,24 2020 Newest Gorilla Glass Protects Against Both Drops and Scratches Jul,24 2020 Samsung Money Launches, Adds Exclusive Discounts Jul,24 2020 Avatar Sequels Delayed, New Release Dates Revealed Jul,21 2020 LG's Premium Velvet Launching in US for $600 Jul,21 2020 10 modern layouts in 1 line of CSS Jul,20 2020 Windows 10X Delayed to 2021, Loses Win32 Support Jul,20 2020 Microsoft Cloud PC is Coming in Spring 2021 Jul,20 2020 Samsung Galaxy Buds Live In-Ear 'Bean' Earbuds Leak On Video Jul,19 2020 Gamer Girl - Official Teaser Trailer (2020) Jul,17 2020 Why do Casio calculators get this wrong? Jul,17 2020 This is The Deepest Hole on Earth. What's At The Bottom? Jul,17 2020 Facebook Messenger Adds Screen Sharing Jul,17 2020 Get Warhammer 40,000: Rites of War for Free Jul,17 2020 Intel Core i9-10850K Priced at $449 Jul,15 2020 AMD Releases Radeon Software Adrenalin 20.7.2 Beta >> News Archive <<