HD 3850 Crossfire vs. 8800GTS 512MB G92 - [hardware]
04:30 AM EST - Dec,09 2007 - post a comment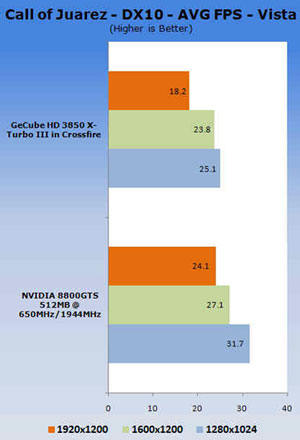 The chaps over at
TweakTown compare an ATI HD 3850 Crossfire setup
to NVIDIA's new G92 based 8800GTS. The GECUBE X-TURBO III ATI Radeon HD 3850 manages not only to pack some extra speed, but also get an upgrade from 256MB of DDR3 to 512MB; this to match the G92 based 8800GTS. Looking at clockspeeds, the GECUBE offerings come in with a core clock of 725MHz and 1800MHz DDR on the memory. The 8800GTS 512MB on the other hand packs a default clock speed of 650MHz with a 1650MHz shader clock to boot. It also runs with a relatively high 1940MHz DDR memory clock.
Deciding which route to go isn't going to be an easy one as both setups offer some pretty good numbers. If you're gaming around the 1280 or 1600 mark you're probably better off with the 8800GTS 512MB as it seems to handle the lower resolutions better. With that said though, if you're gaming around that area you're probably better off with the cheaper 8800GT. If you're interested in high resolution gaming we would probably opt for the Crossfire setup as it tends to offer similar performance to the 8800GTS 512MB, if not a little faster in some cases. With that said though, if you're going to venture into the land of AA and AF we would probably suggest the 8800GTS.

Originally we thought that the power was going to be a drawback for the Crossfire setup, but the power figures between it and the 8800GTS 512MB are so close to each other that it doesn't really come into the equation.

The biggest let down with the 3850 Crossfire setup is the AA and AF performance; AMD and the driver team just can't seem to get that side of things right. What will be interesting now though is the performance we get out of the Catalyst 7.12s which should be due out soon. AMD really need these drivers to be good so they can get over the line. Both setups tend to be pretty good and it would be hard to say a particular one is better than the other. As we mentioned before though, both setups have their strengths and weaknesses. OpenGL along with AA performance favors the 8800 while higher resolution gaming and especially games that have the ability to take advantage of a multi card setup tend to favor Crossfire.




Add your comment

(free registration

required)



May,26 2018 Ferrari 812 Superfast 320 km/h on Autobahn! May,26 2018 Russian Nuclear Submarine Yuri Dolgoruky (K-535) May,26 2018 Edge Beats Chrome Again in Battery Life May,26 2018 Christopher Robin Official Trailer #2 (2018) May,26 2018 Fox Catches A Rabbit, Gets Absolutely Wrecked By A Hungry Eagle May,25 2018 PornHub Launches Free VPNhub Service for Mobile May,25 2018 Windows 10 Redstone 5 Build 17677 Offers Sneak Peek May,24 2018 Google, PayPal Extend Mobile and Online Payment Partnership May,24 2018 AMD Radeon Adrenalin Edition 18.5.1 May,24 2018 GeForce Game Ready 397.93 WHQL drivers May,23 2018 20+ Most Satisfying Art Videos by Bored Panda Art May,23 2018 Skyscraper - Official Trailer 2 May,23 2018 GOD FRIENDED ME Official First Look Trailer May,23 2018 HTC U12+ Jumps to 2:1 Screen, Improves Edge Sense, Refines Speakers May,23 2018 MOWGLI - Official 1st Trailer May,23 2018 Mark Zuckerberg's European Parliament Live Stream May,23 2018 Speculative Store Bypass in 3 Minutes May,22 2018 Unreal Gold is available for free