Abit IP35 Pro Mobo Tested - [hardware]
11:28 AM EDT - Jul,12 2007 - post a comment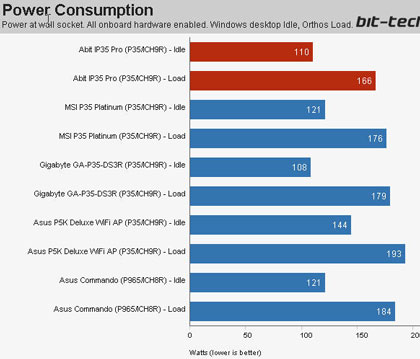 Bit-tech published a review
of Abit's IP35 Pro motherboard. This mobo features support for LGA775 Intel Core 2 Quad and Core 2 Duo, including 1333/1066/800FSB and 45nm processors, Intel P35 Northbridge, Intel ICH9R Southbridge, supports up to 8GB of dual channel DDR2 667/800, using four 240-pin, 1.8V DDR2 DIMMs, two PCI Express x16 slots (x16 and x4 electrical), one PCI Express x1 slot, three 32-bit v2.3 Master PCI bus slots (support 3.3v/5v PCI bus interface), one IDE port, six SATA 3Gbps ports supporting RAID 0, 1, 0+1, 5 or JBOD, realtek ALC888 High-Definition audio codec supporting 7.1 channel surround sound up to 32-bit/192KHz with optical S/PDIF in and out, two PCI Gigabit Ethernet controllers provided by the Realtek RTL8105SC chipset, JMB363 controller supplying one PATA port and two 3Gbps eSATA devices with RAID 0, 1 and JBOD, Texas Instruments TSB43AB22A IEEE1394a Firewire controller, Abit uGuru technology.
It's good to know Abit can still make a great board and one that is completely designed with the enthusiast and overclocker in mind. It's no MAX board, but for £120 it's a damn sight cheaper than the IN9-32X MAX and should overclock to at least similar levels. With such a tailoring to this niche of user we can forgive Abit for some of the board's shortcomings, like very few USB ports and PCI-based Ethernet controllers. Also, if you consider the attention to detail with design tweaks like the enhanced power regulation, uGuru and large voltage adjustment potential, including the ability to adjust GTL Reference voltage.

My personal preference is for Abit's uGuru tech over MSI's CoreCell as well, but that's only because I've been using it for years. Abit fanboys should lap this board up as it has all the makings of a legendary board providing you can tame the overclocking demon and you either know how to or learn how to use the extra features.

If you've no preference either way then yet again it's really whatever fits your need with regards to features, price and a personal preference in the looks department. Even though it's super stable and is one of the best overclockers we've seen the general stock performance is on average, not quite as good as the rest of the competition, but Abit designs the board with overclocking in mind and in that regard we have to score it highly. There are quite a few really great boards on the market the chipset of P35 upgrade is made ever harder, but if you do decide on the Abit P35 Pro you definitely won't be disappointed.




Add your comment

(free registration

required)



Apr,24 2018 VENOM - Official Trailer Apr,24 2018 Inside a Lost African Tribe Still Living in India Today Apr,24 2018 VR HAS GONE TOO FAR! Apr,23 2018 CRAZY RICH ASIANS - Official Trailer 1 Apr,23 2018 NVIDIA AI Inpainting Is Cool Apr,23 2018 Microsoft Working on Cut-Down Version of OS Apr,21 2018 Alienware Hotel Room Apr,20 2018 Xbox One X FreeSync/ Adaptive Sync Tested Apr,20 2018 Apple's New Robot Prevents Your Dead iPhone from Pushing Daisies Apr,20 2018 God of War 4 - Final Boss Fight Apr,20 2018 Deadpool 2: The Final Trailer Apr,19 2018 Western Digital Outs Capacious 14TB Ultrastar DC HC530 HDD Apr,18 2018 I FEEL PRETTY New Movie Clip Trailer 2018 Apr,18 2018 Google Simplifies Two-Factor Authentication in Gmail Apr,18 2018 Chrome 66 for iOS and Desktops Halts Autoplay Apr,18 2018 The making of a humanoid robot built to launch Westworld on NOW TV Apr,18 2018 Nvidia GTX 1180 specs and performance data leaks out Apr,17 2018 AMD Radeon Graphics: Freedom of Choice