Intel Pentium E2140 Tested - [hardware]
04:53 PM EDT - May,29 2007 - post a comment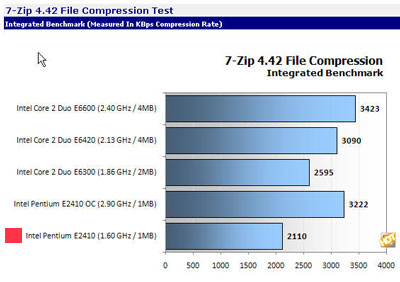 The chaps over at
HotHardware take a look at the performance, power consumption, and overclockability
of Intel's brand-new Pentium E2140 dual-core processor. This chip is derivative of the 'Conroe' core used in the Core 2 Duo family of processors, but with a smaller cache and lower FSB and core frequencies. At under $100, it proved to be a solid value, especially after we overclocked it to almost 3GHz using the stock air-cooler.
For a $95 (USD) processor, the Intel Pentium E2140 put up a surprisingly solid performance, which is a testament to this chip's overall value. Albeit under a new name, Intel is finally moving their Conroe dual-core architecture down to the budget markets, bringing true modern dual-core performance to low-end systems, which is something everyone can appreciate.

In terms of raw performance, the Pentium E2140 only runs about 10% slower in most cases than Intel's cheapest Core 2 Duo processor, the E6300, which is impressive considering it has a lower clock speed and half the cache. However, the Pentium E2140 ($95) is currently 42% cheaper than the Core 2 Duo E6300 ($165), making it a better value compared to low-end Core 2 Duo processors. We should also note that, AMD does have dual-core Athlon 64 X2 processors which are as inexpensive as $55 in some cases, so if you're looking for extreme low-budget dual-core processing, AMD still delivers the lowest price. For Intel-based dual-core computing though, the Pentium E2100-series chips are excellent choices for those with limited budgets.

When looking at the benchmarks, we also see that the Pentium E2140 can provide extremely good performance when overclocked. Notably, the chip performs great in workstation and basic office-class applications, where the smaller amount of L2 cache does not hurt performance as much as one would expect. Gamers, however, would be better served by a chip with a larger amount of L2 cache, as the smaller L2 compliment on the Pentium E2100 series does hurt its clock-for-clock gaming performance against the Core 2 Duo. While others have pushed these chips further with more exotic cooling, we pushed our chip to 2.9 GHz with the stock cooler. At this level, the Pentium E2140 processor can provide performance similar to a Core 2 Duo E6700 ($320) in best case scenarios. The Pentium E2140 can push very high clock speeds with very little work, and the stock cooler which Intel bundles is whisper silent most of the time, which makes for a great combination.




Add your comment

(free registration

required)



Short overview of recent news articles

Feb,25 2021 Three Arrows Capital CEO Says Bitcoin Could Hit $2,500,000 Feb,25 2021 Motorcyclist Collides With Car Feb,24 2021 Denuvo Cracker EMPRESS "Arrested" Feb,24 2021 eToro down as crypto, global equities turn volatile Feb,23 2021 AMD Releases Radeon Software 21.2.3 Drivers Feb,23 2021 Massive Bitcoin Whale Transactions Move More Than $1,9T in Crypto Feb,22 2021 Institutional Bitcoin Investors Briefly Lose $13 Billion in Market Feb,22 2021 MoneyGram Drops Ripple Citing SEC Lawsuit Feb,22 2021 Perseverance Rover's Descent and Touchdown on Mars Feb,22 2021 Engineer Demonstrates How To Pull Off The 'Sitting In the Air Feb,22 2021 Michael Burry Issues Warning on Future of Bitcoin and Gold Feb,22 2021 Two Whales Just Withdrew a Billion Dollars From Coinbase Feb,22 2021 AMD releases statement regarding USB problems on 500-series chipset Feb,21 2021 Ripple now registered as a Wyoming business Feb,21 2021 Pfizer vaccine doesn't need ultra-cold storage after all, company Feb,21 2021 Samsung Adds New Features to Older Galaxy Phones Feb,21 2021 Ripple XRP to +$1000 In 2021?? Warren Baffet predicts the future! Feb,21 2021 Another Weekend, Another All-Time High: Bitcoin Hits $57k Feb,21 2021 NVIDIA GeForce RTX 3060 Anti-Mining Feature Feb,20 2021 Mortal Kombat 2021 - Official Trailer Feb,20 2021 Dad Level: 9000 Feb,19 2021 Ripple Is Working With Central Banks To Develop Digital Assets Feb,19 2021 Bill Gates Says He's Neutral On Bitcoin Feb,19 2021 SEC files amended complaint against Ripple - Hogan's legal take Feb,19 2021 NASA successfully lands Perseverance rover on Mars Feb,18 2021 Android 12 release date Feb,18 2021 Some of these crypto projects aren't even trying to look legit Feb,18 2021 Epic Cycling on Ice Feb,18 2021 Debunking Can you make ICE in a microwave? Feb,18 2021 New York Files Fraud Charges Against Crypto Firm Coinseed Feb,17 2021 Disney's Cruella - Official Trailer Feb,17 2021 Coinbase, Readying for Public Listing, Gets $77B Valuation Feb,17 2021 Bullish Coinbase Premium Returns as Bitcoin Reaches $51,400 Feb,16 2021 The Claudia Conway Audition From 'American Idol' Feb,16 2021 Bitcoin Price Breaks $50,000 Barrier Feb,15 2021 Chinese GPU miners reportedly bulk buying Nvidia laptops to mine Feb,15 2021 NVIDIA Confirms Specs of the GeForce RTX 3060 "Ampere" Feb,15 2021 Bitcoin Miners Now Earn 1 BTC in Fees Per Block Feb,14 2021 Google Photos Gains New Video Editor, Plus Extra Features Feb,13 2021 Nvidia is About to Relaunch the GTX 1050 Ti & RTX 2060 ti >> News Archive <<