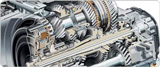 Volkswagen today revealed the latest version of its DSG gearbox
- a seven-speed system codenamed DQ200. It uses a pair of dry clutches in preference to the six-speed version's twin wet clutches, providing an increase in efficiency and performance. The six-speed DSG gearbox, which was introduced in 2003, uses a pair of clutches submerged in oil. The new seven-speed gearbox adopts a pair of dry, organic bonded friction linings that do not require cooling, making the drivetrain more efficient through the extra ratio.
For the first time the DSG gearbox has been mounted transversely. Measuring only 369 mm in length and weighing only 79 kg including the dual-mass flywheel the gearbox is remarkably compact. These modest proportions mean it can be applied to models from the Polo right up to the Passat and, in its current form, it is capable of coping with power outputs of up to 170 PS and 184 lbs ft of torque. In adopting seven-speeds, Volkswagen engineers were able to lower first gear to improve acceleration from a standstill. By contrast seventh gear has been raised to act as an overdrive function making it ideal for motorway driving with the additional effect of raising economy and comfort levels. Production of the gearbox is set to start at the end of the year.