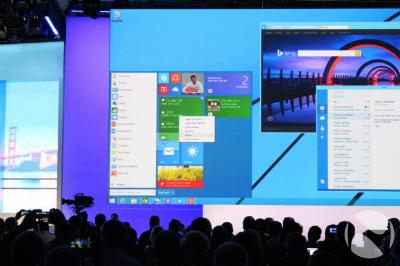 Microsoft has announced
that the Start menu will be coming back to Windows 8.1 and showed off what it will look when it arrives later this year This is a huge win for those of you who have wanted a Start menu on Microsoft's latest version of Windows, and it will likely silence some critics of the platform. Another new feature that will be coming is that you will be able to run modern apps in a windowed environment too. The Start menu will be returning to Windows in a future 8.1 update, which is in contrast where we heard that the Start menu would come to Windows with Windows 9.
Microsoft is making its first update to Windows 8.1 available to customers starting today. It wasn't clear
from Myerson's remarks
if he was referring to an Update 2 later this year or to Windows 9, which we Microsoft watchers have heard is a Spring 2015 deliverable. Microsoft officials have not publicly confirmed that an Update 2 to Windows 8.1 is in the cards. My sources have said that an Update 2 was a possibility for fall 2014. Myerson also disclosed that the company plans to make Windows free in the future for Windows phones, tablets and PCs with screen sizes of 9 inches or smaller, as well as on "Internet of Things" devices. Again, he didn't say when this would be the case and whether he was talking about OEM pricing, end-user pricing or both.
In related news, Microsoft officially released the ISO files for its major new upgrade to its latest PC OS for its TechNet and MSDN subscribers. In addition, Microsoft has also released Windows Server 2012 R2 with Update 1 to TechNet and MSDN users. As we have previously reported, Windows 8.1 Update will be made available as a free download for anyone who has a Windows 8 or 8.1 PC in less than a week on April 8th.