Apple Applies For Flexible Display Patent - [briefly]
04:25 PM EST - Nov,24 2017 - post a comment
Rumors have been going around the web that Apple is wanting to develop
a new foldable phone
and they are supposedly working with LG to try and bring it to market. I guess we can now say this might be true since Apple has applied for a flexible display patent. Also, they made sure to cover all the bases by including LCD, OLED, and microLED in the patent. However, we'll probably have to wait till 2021 or later before we see anything.
An electronic device may have a flexible portion that allows the device to be folded. The device may have a flexible display. The flexible display may have a bending region that allows the display to bend along a bend axis when the device is folded.

Display may include an array of display pixels formed from liquid crystal display (LCD) components, an array of electrophoretic display pixels, an array of organic light-emitting diode display pixels, an array of pixels formed from crystalline semiconductor light-emitting diode dies (sometimes referred to as micro-LEDs), an array of electrowetting display pixels, or display pixels based on other display technologies. Examples in which display has been formed from organic light-emitting diode pixels or micro-LED pixels may sometimes be described herein as an example).
Samsung to unveil Galaxy S9 and S9+ at CES in January - [mobile]
09:32 AM EST - Nov,23 2017 - post a comment
Rumors have been floating around
that Samsung will deliberately jump the gun from its usual March unveiling of new Galaxy smartphones to show the new S9 and S9+ at CES in January. A new report seems to indicate those rumors are true. The two new models will likely look similar to the Galaxy S8 and S8+, featuring the same 5.8-inch and 6.2-inch curved-edge Super AMOLED displays. VentureBeat said a processor was not mentioned, but previous reports have placed a 10nm-process Qualcomm Snapdragon 845 within the new devices. While the S8 and S8+ were nearly identical aside from the latter's larger screen, the new Galaxy S9+ will offer a significant upgrade from its smaller-screened brother. The report has the S9+ with 6GB of RAM (only 4GB in the S9), and will come with a second rear camera. However, both units will boast 64GB of internal storage, expandable through a microSD slot, and AKG stereo speakers. And, unlike the current iPhones, both will retain their headphone jack. The report also seems to validate recently leaked renders showing a change to the back of the units, placing the camera and fingerprint sensor in a vertical group instead of horizontal, which had been a major complaint of the Galaxy S8 devices. If Samsung does indeed show the new devices off at CES, it will be interesting to see just how much info is revealed along with them. The company will need to save some surprises for its launch event.
VRMark Cyan Room DirectX 12 benchmark - [briefly]
09:30 AM EST - Nov,23 2017 - post a comment
Futuremark has announced the release of
VRMark Cyan Room
. VRMark Cyan Room is a VR benchmark that uses a pure DirectX 12 engine built in-house and optimized for VR. This benchmark tool features a large, complex environment and many eye-catching effects. Players can run the test on their monitor or on a connected HMD. The benchmark runs on a fixed path, which makes it easy to repeat the test on other systems to compare performance. At the end of the test, players will see if their PC was able to meet the target frame rate. Moreover, a comparison with other systems, and detailed hardware monitoring charts will be present.
VRMark Cyan Room also offers an Experience mode with a VR headset to judge the performance of a system. This mode lets you freely explore the Cyan Room in your own time. You can change the rendering resolution and other settings to make the scene more or less demanding. Experience mode is a great way to see how performance affects your VR experience. Furthermore, it appears that this DX12 benchmark runs incredibly well on AMD's hardware
Honor 7X Boasts Twin Cameras, 18:9 Display - [mobile]
06:18 PM EST - Nov,21 2017 - post a comment
Honor has announced the 7X, a budget-friendly handset that adopts the 18:9 aspect ratio for its screen while offering mid-range specs. The Honor 7X features a metal chassis and 2.5D curved glass on front. The screen measures 5.93 inches across the diagonal and offers full HD+ resolution. Huawei's 2.36 GHz octa-core Kirin 659 processor is under the hood with 4 GB of memory and 64 GB of storage. The dual-camera array on the rear features a 16-megapixel main sensor and a 2-megapixel secondary sensor. Together, they can create portrait images with blurred backgrounds. An 8-megapixel selfie camera adorns the front of the phone and includes its own portrait tools and gesture controls. A 3,340mAh battery is buried in the chassis and Huawei says it supports rapid charging. The phone includes a rear-mounted fingerprint sensor, though it does not include NFC. The Honor 7X runs Huawei's EMUI 5.1, based on Android 7 Nougat. It comes in blue, gold, and black. Pricing and availability was not immediately revealed. Honor is Huawei's budget brand.


GameStop Black Friday Ad Reveals Deals - [briefly]
01:48 PM EST - Nov,21 2017 - post a comment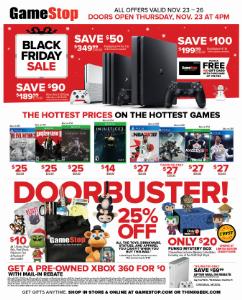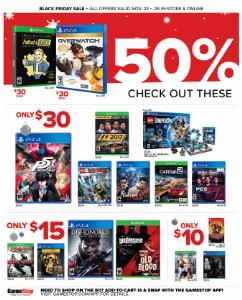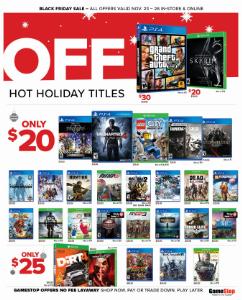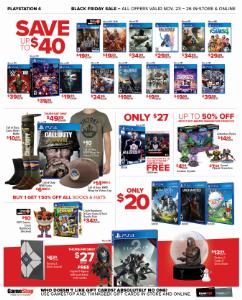 Looking for some good deals on games, consoles, and accessories? GameStop has some pretty great deals this Friday you should consider. All the offers seen in the ad will be commence when doors open this Thursday, November 23rd at 4PM (your local time) and end when doors close on Sunday, November 26th.
Intel Aims to End Legacy BIOS Support by 2020 - [briefly]
05:44 PM EST - Nov,20 2017 - post a comment
ntel's Brian Richardson in
a recent presentation suggested
that Intel will no longer support legacy BIOS after 2020. The plan is to pursue UEFI only from that point forward. Anyway, progress never stops and it's time to start getting rid of a lot of the legacy OS stuff running out there. This move to UEFI only will force updates to old software and devices unless a person decides to stay on old motherboards and OS.
Philip K. Dick's Electric Dreams - Official Trailer - [briefly]
05:43 PM EST - Nov,20 2017 - post a comment
Amazon today announced that its new sci-fi anthology series Philip K. Dick's Electric Dreams will is going to air January 12th on Prime Video. It will be 10 standalone episodes set in different worlds and if it's anywhere close to Man in the High Castle it's going to be awesome. I don't know about anyone else, but I believe this is going to be another home run for Amazon. They keep bringing great original programming to us streamers.


Incredibles 2 Official Teaser Trailer - [briefly]
03:44 PM EST - Nov,20 2017 - post a comment

Disney/Pixar's "Incredibles 2" opens in theatres in 3D June 15th, 2018.



Been waiting on this movie for what seems like forever! Finally coming out. Hope it's great.
Xbox One X Tear-Down - [briefly]
11:35 AM EST - Nov,19 2017 - post a comment
The chaps over at Gamers Nexus have posted a really nice tear-down of the Xbox One X. After watching it you can see how well the Microsoft engineers designed the chassis and stuffed so much into a small space. Hopefully the cooling is robust enough to prevent heat failures.


Surface Book 2 gets torn down, repairs are tough - [briefly]
04:33 AM EST - Nov,19 2017 - post a comment
The Surface Book 2 was available for pre-order last week, but you can now head to a store and make your purchase on the spot, as it made its official retail debut on November 16. While it is a beautifully crafted machine, it seems that just like its predecessor, the Surface Book 2 isn't terribly easy to repair. This information comes from the folks at iFixit, who took the unit apart and gave it a repairability score based on the difficulty of dismantling it. The Surface Book 2 seems to be glued into place at every access point and requires quite a bit of heat and force with prying tools. Once inside, there are tons of screws that keep things together on the tablet portion, along with many ribbon cables and various connectors. While the processor and RAM are soldered to the board, the one shining beacon is that the SSD can be replaced if needed. Again, this will require quite a bit of work, but its good to know that it can be done. For this reason, the Surface Book 2 scored a rather paltry one out of ten, the same score as a number of Apple's MacBook and MacBook Pro laptops.


Xbox Game Pass $1 Black Friday Deal - [gaming]
04:45 PM EST - Nov,18 2017 - post a comment
Microsoft has already opened the dances with its Black Friday deals open to Xbox Live Gold members, but there is a juicy one for everyone. Those who don't have an Xbox Game Pass subscription can get the first month for $1 (or €1 if you're in Europe). Unfortunately, the deal is open only to first-time subscribers, but it's still rather sweet. There are no strings attached, so if you don't want to pay the $9,99 (or €9,99) required after the first discounted month, you can simply unsubscribe. The service gives you unlimited access to over 100 games until they're rotated out of the line-up, including titles like Halo 5: Guardians, Mad Max, Metro: Last Light Redux and more.


Germany Bans Children's Smartwatches - [briefly]
03:05 PM EST - Nov,17 2017 - post a comment
A German regulator has
banned
the sale of smartwatches aimed at children, describing them as spying devices. It had previously banned an internet-connected doll called, My Friend Cayla, for similar reasons. Telecoms regulator the Federal Network Agency urged parents who had such watches to destroy them. All I've got to say about that is.....dilly, dilly. Company's have got to fix their stuff when it comes to child safety.
The Tesla Semi Revealed - [briefly]
09:34 AM EST - Nov,17 2017 - post a comment
Despite some delays, as promised Elon Musk finally rolled in to reveal Tesla's new all-electric truck, the Tesla Semi. The big rig goes from 0 to 60 in 5 seconds and tows a max load 80,000 lbs with an estimated range of 500 miles on the highway. A range of 400 miles can be had in 30 minutes on a single charge from solar powered "Megachargers" the company plans to build.


Bitcoin Passes $8,000 For the First Time in History - [briefly]
09:33 AM EST - Nov,17 2017 - post a comment
Just weeks after crossing the $7,000 milestone, bitcoin surged to a new all-time high on November 16, peaking at $8020 on the Bitfinex exchange. This marked the first time the cryptocurrency's value passed the $8,000 mark, though it dropped back down to $7,896 at the time of writing. Is bitcoin going to keep going up? Only time will tell, but it sure looks like it.
Nov,17 2017 Classic Arcade Game 'Rampage' Made Into a Movie
Nov,17 2017 Apple Releases iOS 11.1.2 to Clean Up More Bugs
Nov,17 2017 New York Court Says Police Must Get Warrant to Use Stingrays
Nov,16 2017 Borgore feat Bella Thorne - Salad Dressing
Nov,16 2017 OnePlus 5T - A New View
Nov,16 2017 GeForce 388.31 WHQL Game Ready Drivers
Nov,15 2017 DOOM VFR for you PS4 Kinda Guys and Gameplay
Nov,15 2017 New iOS 11.2 Beta Squashes Bugs, Preps Apple Pay Cash
Nov,15 2017 Deadpool 2 - Official HD Deadpool's "Wet on Wet" Teaser
Nov,15 2017 XSPC Razer Neo Waterblock for GTX 1080 Ti Unboxing
Nov,14 2017 Watch a 10-Year-Old's Face Unlock His Mom's iPhone X
Nov,13 2017 'Harry Potter' Theme Song Played On Wine Glasses
Nov,13 2017 Slaughterbots
Nov,13 2017 Bitcoin Rival Doubles in Price in Four Days
Nov,13 2017 Google's AI Guru Predicts Humans and Machines Will Merge within 20
Nov,12 2017 This Is Why You Should Always Check For Cars Before You Cross The
Nov,11 2017 Experts can hack most CPUs since 2008 over USB
Nov,10 2017 How fast is the updated Tesla Model S 100D from 0-60 MPH
Nov,10 2017 iPhone X Has Been Jailbroken Already
Nov,10 2017 You can grab Syberia for free on GOG.com
Nov,10 2017 Apple Releases iOS 11.1.1 to Fix Keyboard Bug
Nov,10 2017 Apple Overhauls Clips App to Take Advantage of iPhone X TrueDepth
Nov,10 2017 Samsung Reveals New Exynos 9 Processor and Camera Sensor
Nov,10 2017 Emily Ratajkowski's Is Pumping Her Booty For Instagram
Nov,09 2017 GoPro Gets Covered by Lava, Bursts Into Flames, and Survives