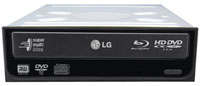 Hitachi-LG plans to demonstrate its GGW-H10N 'Super Multi Blue' drive
at CeBIT 2007 show in mid-March. It does not mean, however, that the company plans to start selling it right away: the expected arrival timeframe is May,
according to CDRinfo and the projected price is roughly $1200
, which means that the PC drive alone costs the same amount of money as the BH100 player compatible with both Blu-ray and HD DVD formats. The Hitachi-LG GGW-H10N drive can read, record and re-write CDs and DVDs (10x speed for DVD±R, 8x for DVD±RW, 6x/8x for DVD±R DL) as well as playback, read and record single- and dual-layer Blu-ray discs (4x or 3.5x speed), it also can playback HD DVDs. The device is designed for Serial ATA interface. The GGW-H10N can record up to 50GB of data. Surpassing the market standard, LG is providing a 4x recording speed of Blu-ray Discs, which means that it takes only 23-24 minutes to burn a full single layer BD-R disc (25GB), compared with 46-47 minutes for conventional 2x recording.
LG will also showcase the GSA-E50, an external Super-Multi Portable DVD drive. Besides its elegant design, the drive integrates USB BUS Power, with an AC adapter for high speed. The unit has up to 8x DVD+R, DVD-R write speeds in addition to 8.5GB double layer recording and 5x for DVD-RAM. The drive will be also available in a lightscribe version, dubbed GSA-E50L. The drives will be available from May for 99 euro (without LightScribe) and 109 euro (with LightScribe).