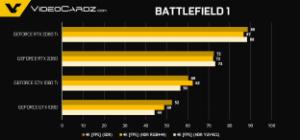 Videocardz
has leaked the Nvidia Official Reviewer's Guide Performance Charts. In GeForce RTX reviewer's guide, NVIDIA is not using any other resolution than 4K. So all benchmarks (except VRMark Cyan Room) were performed at 3840x2160 resolution. In fact, the RTX 2080 series were 'designed for 4K', as the document claims. NVIDIA reference system includes: X299 Rampage VI Apex, Core i9-7900X 3.3 GHz, Corsair 16GB DDR4 (no frequency specified), Windows 10 (v1803), NVIDIA 411.38 drivers.
In related news, Nvidia moderator ericnvidia80 has informed the community at the GeForce forums of an update to the
GeForce RTX 2080 Ti product availability.
Hi Everyone,

Wanted to give you an update on the GeForce RTX 2080 Ti availability. GeForce RTX 2080 Ti general availability has shifted to September 27th, a one week delay. We expect pre-orders to arrive between September 20th and September 27th.There is no change to GeForce RTX 2080 general availability, which is September 20th. We're eager for you to enjoy the new GeForce RTX family!

Thanks for your patience.